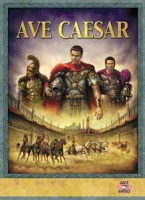 Ave Caesar
"Panem et circenses!" (Bread and Circus Games!) This was the chant shouted by thousands upon thousands of Romans as they poured into the great arenas (circuses) on over 200 holidays per year to enjoy the epic competitions of Ancient Rome. The largest of these arenas was the famous Circus Maximus, erected between the Palatine and Aventine hills. Here, circa 500 BC, spectators were treated to horse-drawn chariot races, in which competitors struggled through 7 laps around a perilous 1200-meter course.
Set in a Roman Coliseum, players use cards to move their chariots around a quasi-variable track. The track itself has bottlenecks and lane-changing restrictions, which make the race interesting for the racers.
Players are required to race three laps, and they must stop to 'Hail Caesar' before they can finish. The game is light, but if you waste too many moves taking the longer, outside-routes on corners, you may not have enough movement to finish the race. Later, the game was revamped into Ausgebremst, with the most notable changes being modular boards and options to reduce the luck.
Add a Review for "Ave Caesar"