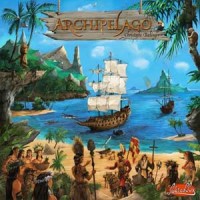 Archipelago
In Archipelago, players are Renaissance European powers competing in the exploration of a Carribean archipelago. They will explore territories, harvest resources, use those resources in markets both internal (for their use and that of the natives) and foreign (to sell it in Europe), build markets, harbors, cities and temples, and negotiate among themselves (and maybe betray each other) – all this to complete their secret objectives. They will also need to guess the secret objective of the other players to be able to benefit from them.
But players also need to be careful of the natives; if they make them too unhappy or if too many of them are unoccupied, they could revolt and declare independence. Then everyone will lose!
The game tells the tale of the majestic era of global discovery from 1492 (with the discoveries of Christopher Columbus) up to 1797 (the colonization of Tahiti). Each player is an explorer commissioned by a European nation who will, with the help of his team, explore, colonize and exploit the archipelagos. These colonial vanguards will be expected to carry themselves with diplomacy, meeting the needs of the locals while reaping the fruits of the New World. They must respect the archipelagos and their indigenous peoples because otherwise, the natives will revolt – and this could lead to a war of independence.
The boundaries between expansionism and humanism, between economy and respect for local values, between knowledge and industrialization, are not always obvious. The final balance of the archipelago depends on the will of the explorers, who will choose to make these island colonies happy and productive, or outrageously exploit the resources and drive the natives to chaos and rebellion. Additional care must be taken, for hiding among the players may be a separatist and a pacifist, both of whom will try to tip the scales toward either revolt or peace. You must be prepared to take on this task and explore the islands.
Add a Review for "Archipelago"