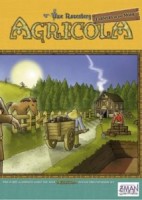 Agricola: Farmers of the Moor
Agricola: Farmers of the Moor is an expansion for Agricola, the winner of the "Deutscher Spielepreis" 2008.
Life is not easy for a Farmer on the Moor: each player starts the game with 5 Forest and 3 Moor tiles on their farm. Fortunately, though, there are new Special actions, which allow players to make even these areas usable:
Fell Trees provides an additional 2 Wood
Slash and Burn converts a Forest tile to a Field
Cuts Peat receives 3 Fuel
This expansion adds Fuel as a new, extra currency in the game (beside Food). Players need it to heat their homes during the Harvests. Heating costs are reduced through renovation, so there is reason to renovate early in the game. A new type of animal, horses, is added to the game. Players are rewarded well for horse breeding: each horse is worth 1 point at the end of the game.
14 additional Major Improvements are added in Farmers of the Moor. There are new Special actions allowing users to acquire Improvements. Players can also choose to play with the additional Minor Improvements that are included with this expansion. This gives the Farmers of the Moor expansion some of the variety in gameplay that has made the basic game so popular.
Add a Review for "Agricola: Farmers of the Moor"