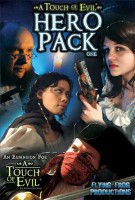 A Touch of Evil: Hero Pack 1
The Hero Pack 1 Expansion for A Touch of Evil introduces 4 exciting new monster-hunting Heroes, Adrianna the Foreign Traveler, Harlow Morgan the Inventor, Lucy Hanbrook, and the infamous highwayman, The Scarlet Shadow; each with a highly-detailed plastic miniature. Also included are 10 powerful new Event and Location cards as well as a deadly new Villain...the Necromancer. With total control of the Walking Dead, the Necromancer strangles the streets of Shadowbrook with an endless horde of zombie minions and an unquenchable thirst for destruction.
Add a Review for "A Touch of Evil: Hero Pack 1"