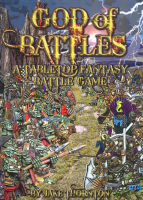 God of Battles
From the Publisher: God of Battles is Jake Thornton's new fantasy wargaming rules, in which players command armies of model soldiers to battle against each other across troubled lands.
Jake is the author of our own Tribes of Legend, as well as having written Dreadball, Dwarf King's Hold and Project Pandora for Mantic Games. Jake has done design work for Warhammer 6th edition, managed Blood Bowl, Necromunda and Mordheim for Games Workshop and was the editor for White Dwarf for two years.
The book has over 285 full colour pages, weighs over 3.2 lbs. and contains hundreds of exquisite Kevin Dallimore photos.
From the Designer: God of Battles is my fantasy mass battle game and was released by Foundry in 2013. It is a tabletop figure game, designed to be played with 28mm fantasy figures such as the vast range produced by Foundry themselves.
Game play focuses on commanding an army rather than the minutiae of what length of spear each individual warrior has. It has simple rules that allow you to concentrate on what you want your army to do, not which sub-paragraph of the rules you need to argue about to do it. However, in my normal style, I have hidden a considerable amount of tactical depth and tricky decision making under this apparent simplicity.
As well as all the basics of building armies and how to move and fight across the battlefield with them, God of Battles contains rules for miracles, weather, scenarios, camps, baggage trains, varying terrain and 10 complete army lists with over 20,000 words of background. It is a complete product in a single volume.
Add a Review for "God of Battles"