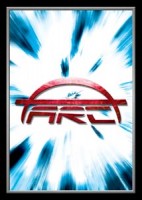 ARC
ARC is an "Expandable Card Game" (ECG) based on time travel designed for 2-4 players. Each player is represented by an Aeon character card, and plays the role of a time traveler with special abilities that can rift in and out of eras in time. "Eras" are cards that make up a playing surface similar to a game board. Depending on which Aeon you choose, the Eras in the game will change. Your goal is to defeat all other Aeons so you can control time and change the future how you and your allies see fit!
The first edition of ARC includes five themed pre-constructed decks. Each pre-constructed deck contain multiples copies of most cards in them. Future expansions will be released as pre-constructed decks or pre-assorted packs. Currently, all pre-constructed decks include 64 cards.
The 64 cards included are:
3 Eras: These create the board for the game and allow you to rift through time.
1 Aeon: Your character card, which represents you during game play.
60 playable cards: These are played from your hand and affect the game in various ways.
Game play time varies averages 15 minutes for a two-player game to 40-75 minutes for games with 3-4 players.
Add a Review for "ARC"