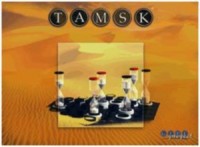 TAMSK
TAMSK is a game for 2 players, which is played under permanent time pressure. Both players start the game with 3 hourglasses and 32 rings. The hourglasses are the playing pieces; the aim is to get rid of as many rings as possible. Each turn you must move one of your hourglasses and turn it over; next you may play a ring in the newly covered space. The more spaces you visit, the more rings you will be able to play. But watch your hourglasses closely; each one that runs out of time is lost!
TAMSK introduces time as a substantial strategic element. If you are prepared to think fast and to play quickly without losing your cool, then you have the right attitude. Enjoy the pressure!
Add a Review for "TAMSK"