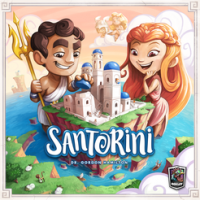 Santorini
Santorini 2017 is a non-abstract re-imagining of the 2004 edition. Since its original inception over 30 years ago, Santorini has been endlessly developed, enhanced and refined by mathematician and educator, Dr. Gordon Hamilton. Santorini is a highly accessible pure strategy game that is simple enough for an elementary school classroom. But with enough gameplay depth and content for even hardcore gamers to explore, Santorini is truly a game for everyone.
Welcome to the world of Santorini, a fantastic reimagining of the classic abstract game from 2004. Players are given a sandbox in which to play as gods, moving their workers around the board to build up a beautiful, multi-tiered city. Do you have what it takes to outsmart your opponents? Find out in Santorini!
Add a Review for "Santorini"