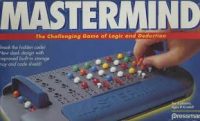 Mastermind
Test your code-cracking prowess with Mastermind, the challenging game of logic and deduction. Can you crack the code in 10 moves or less? Can you create a code than can't be cracked? With more than 55 million units sold, Mastermind is a great strategy game . . . and one of the world's most popular games ever. It's easy to learn and fast to play, and with more than 2,000 possible codes it's different every time. The Codemaker sets a secret code, then the Codebreaker tries to match the code using logic, deduction, and maybe even a little bit of luck. After each move, the Codemaker gives clues to the Codebreaker. Make the code even more devious by using multiple pegs of the same color or by leaving one or more peg holes empty. With so many possible code combinations, every game is guaranteed to be a brainteaser. All of this mind game's components can be stored in the game board. The winner will be a true master mind.
Mastermind is based on a pencil and paper game called Bulls and Cows. Rather than colors, the code is 4 digits. As the opponents guess the digits, matching digits are called "bulls," while wrong guesses are "cows".
Leading game companies initially rejected the game, but Mordecai Meirowitz finally took it to the International Toy Fair in 1971. There, he showed it to Invicta Plastics, an English company. Invicta Plastics changed up the rules a bit, gave it the name "Master Mind" and released it in 1971. The game was a hit: 50 million copies were sold throughout 80 countries. It was the most popular new board game of the decade.
The game has been reprinted several times, with one version having a scoring system for up to 5 players. There are also online versions of the game. The current version by Pressman is for two players.
Add a Review for "Mastermind"