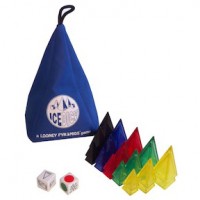 IceDice

IceDice is a fast-playing, easy-to-learn dice game with great press-your-luck action that'll keep you playing over and over again! Your goal is simple: collect 3 matching sets of pyramids. If the piece you roll is gone from the bank, you get to steal it from your opponent!
Rules to a bonus game, Launchpad 23, are also included, along with a colorful 24 page Guide to Looney Pyramids promoting the game system and 11 other games that can be played with the pyramids.
Add a Review for "IceDice"