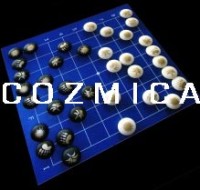 Cozmica
Cozmica plays on a 9 x 9 grid board like a Go board. There are 36 pieces (stones), 18 each player (black and white).
Each player has 6 Animal, 6 Plant, and 6 Microbe DNA pieces (stones). Animal takes Plant, Plant takes Microbe, Microbe takes Animal. All the pieces move the same way (like a king in chess but can move 2 spaces any direction instead of 1).
The object of the game is to establish a colony (1Animal,1Plant, 1Microbe) that you have either captured of the opponent's DNA pieces by surrounding them, or you crossed 1 each of your own DNA pieces to the other side and off the board. It is OK to mix the opponents and your own pieces to create a colony.
During the battle you can diminish your opponents Bio-ship fleet by intercepting and eliminating them.
Add a Review for "Cozmica"