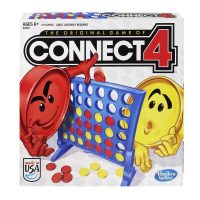 Connect 4
Challenge a friend to disc-dropping fun with the classic game of Connect 4! Drop your red or yellow discs in the grid and be the first to get 4 in a row to win. If your opponent is getting too close to 4 in a row, block them with your own disc! Whoever wins can pull out the slider bar to release all the discs and start the fun all over again!
Do you go up, to the side, or diagonally? Start in the middle or at the edge? It's your choice in Connect 4 Grid. Stack the 4 discs vertically, line them up side to side, or go on the diagonal. As long as you get 4 in a row, you win. Stay one step ahead of your opponent and block their attempts to get to 4-in-a-row first. Play all 3 Connect 4 Classic Grid games, and crush the competition!
Connect 4 Classic Grid offers 3 ways to play. Choose the classic Connect 4 game and line up 4 red or gold discs to win. It's fast and easy. Connect 4 Frenzy starts with "ready, set, drop!" and then it's a fun free-for-all of discs flying into the slots. In Connect 4 Frenzy, both players drop their discs at the same time, using one hand only! When you play the third game, you choose to drop a disc into the grid, or eject one from the bottom using the pop out feature. It's the Connect 4 you love, with new challenges and strategy!
Add a Review for "Connect 4"