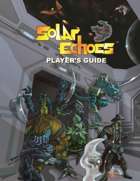 Solar Echoes
Solar Echoes is an imaginative strategic role-playing game involving team-based social play in which you take on the role of a hero. Players gather together and immerse themselves in a science-fiction universe, developing their own created characters as they discover and explore new worlds, interact with alien beings, engage in combat with hostiles, and uncover shocking secrets at the far reaches of space. Solar Echoes is a universe designed with endless possibilities and choices.
You can do just about anything you can imagine in this game. You can explore the game universe, develop your own economic goals through trading, buying and selling, customize your own starship and weapons, become the leader of a colonized planet, discover the secrets of the Voidsea, defeat the most powerful enemies in the universe, etc. Rules exist to govern certain situations such as Ranged and Melee Combat, Vehicle and Starship Combat, as well as Hacking and Dialogue challenges. The Mission Controller (MC) describes the scenario, manages rules, sets challenges, controls NPC's (Non-Player Characters), and directs the story. He describes how everything responds to the players and their actions. The MC is there to make sure that the players are challenged and yet have fun overcoming the trials he presents. The possibilities are endless. Official mission scenarios are available at RPGNow.com, and creative MC's can design their own scenarios and campaigns.
Add a Review for "Solar Echoes"