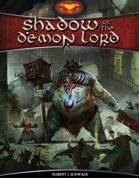 Shadow of the Demon Lord
Enter a world on the brink of annihilation, its lands torn asunder by war, plague, and ancient horrors. Urth, the world of
Shadow of the Demon Lord
®, is one of many imperiled by the shadowy menace lurking without and in this game you can play through its final days as embattled survivors fighting against what to many seems to be an inevitable end. A complete role playing game in one book, Shadow contains everything you need to create characters to confront the hordes of demons spilling in from the Void and to create and play through exciting stories steeped in horror and violence.
Sometimes the world needs heroes. But in the desperation of these last days, the world will take anyone it can get: heroes, blackguards, madmen, and whoever else is willing to stand against the coming darkness. Will you fight the demons or will you burn it all down and dance among the ashes? Who will you become when the world dies?
Shadow of the Demon Lord® opens a door to an imaginary world held in the grip of a cosmic destroyer. Enter a land steeped in the chaos and madness unleashed by the end times, with whole realms overrun by howling herds of beastmen, warped spirits freed from the Underworld, and unspeakable horrors stirred awaken by the Demon Lord's imminent arrival.
A complete tabletop role playing game in one book, Shadow of the Demon Lord® provides everything you need to create and play characters, form groups in pursuit of adventure, and tell exciting stories with your friends. As well, the book gives Game Masters all the tools they need to create adventures, over one hundred foul creatures, a detailed region of the campaign world, and extensive advice to help run the game.
Add a Review for "Shadow of the Demon Lord"