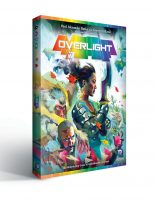 Overlight RPG
Overlight is a fantasy roleplaying game of kaleidoscopic journeys: a visceral, dangerous, and brightly-colored setting. Characters will search for personal meaning among a fantastic, sometimes violent, and overwhelming world.
The first product within the Overlight world is a role-playing game designed by Paul Alexander Butler and George Holland, expected to release in 2018.
Since the beginning of time, a race of serpentine, celestial beings have been the caretakers and observers of the cosmos. At some point in Earth's past, probably around approximately 1,000 B.C.E., a small contingent of these celestials argued that humanity was ready to learn the secrets behind the making of the world. That the Homo sapiens species had achieved such a level of cultural growth and spiritual awareness that they deserved to be shown all the wonders of the universe, to be given the literal Keys of Creation.
This small group of celestials was overruled by the will of the majority. Humankind was not yet ready. Defying this judgment, one individual fled to Earth with the Keys, and gifted them to humanity with one warning, "Do not use the Black Key". Humanity did not listen.
All of reality was turned inside out. The burning heart of the world was now the bright white, unending sky, and the unknowable depths of space now a vast star-filled sea beneath. Entire continents float in the space between, without a moon or sun to guide them.
Add a Review for "Overlight RPG"