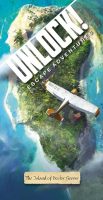 Unlock! The Island of Doctor Goorse
Unlock!
is a series of cooperative card-based escape adventures for up to six players. Each
Unlock!
game consists of sixty cards depicting objects, maps, and puzzles that can be activated, solved, or combined in an effort to access other cards and areas. The free companion app tracks the time allotted to win the game, while also offering hints and unlocking new, and necessary, elements. When the players believe they have figured out the code to escape each adventure, they will input the number into the app and escape the danger, or lose even more time in finding the real sequence.
The Tools to your Escape
Each Unlock! game begins with a starting card (or two), featuring an introduction to the adventure on one side and your initial location map on the other side. Across this first card will be a series of numbers, indicating which other cards you can access as soon as the clock begins counting down. In order to progress through the deck, you must examine the cards and figure out how they interact with each other and with the app.
Requires free downloadable app to play. The Island of Doctor Goorse is a complex and multifaceted mystery adventure set on a billionaire antique collector's island. The crash-landing that got you there will separate players into two teams, adding yet another obstacle to achieving your brilliant escape.
Add a Review for "Unlock! The Island of Doctor Goorse"