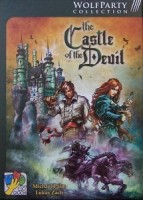 The Castle of the Devil
A game of mystic intrigues and worldly powers!
A lonely coach rattles up the narrow gorges of the mountain, shrouded by clouds the color of lead. The coachman spurs on horses black as the night, hoping to arrive as quickly as he can. Lightning rips the sky, illuminating a manor both sinister and twisted: the Castle of the Devil!
The mysterious passengers who crowd the carriage are all members of two powerful Secret Societies, locked in a perpetual war with each other. But who are allies? Who are enemies? Each stage of the journey offers you precious hidden objects. You must use them well if you hope to get vital information about your accomplices… and your foes!
Collect the Goblets of Intrigue or the Keys of Power, and declare victory for your Secret Society!
Add a Review for "The Castle of the Devil"