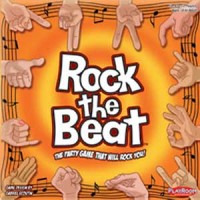 Rock the Beat
Boom-Boom Clap. Boom-Boom Clap. We all know this famous beat, so get ready to start clapping!
In this outrageously funny party game, each player is given a unique hand symbol that they must watch out for. Everyone starts the beat and if an opponent makes your symbol instead of the clap in the beat, you must respond with your own symbol and then one of another player. It may sound easy, but wait until you're rockin' out with multiple symbols and laughing too hard to catch your opponents making yours!
Rock the Beat™ is a great party game, so get a group of any size together and find out who the true champion is!
Add a Review for "Rock the Beat"