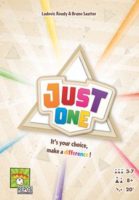 Just One
Just One is a cooperative party game.
You all play together to get the best score! Together, make one of the players – the active player – guess a Mystery word by secretly writing a clue on your easel. Choose your clue without coordinating with each other and be original so as not to write the same clue as another player, as all identical clues will be canceled before the active player gets to see them. At the end of the game, tally your score based on the number of Mystery words found.
Add a Review for "Just One"