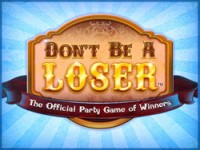 Don't Be A Loser
Why You'll Love This Game. Let's face it, most "party games" make the party lame. Even those that are fun at first have the appeal of warm cottage cheese after just a few games. Well my friend, that is all about to change. We designed a game that actually enhances social situations. Players don't have to pay attention if they don't want to and even those who aren't playing the game can be part of the action. You'll laugh, you'll cry, you'll curse your friends for being such weirdos. It's safe to say that Don't Be a Loser is totally unlike any game you've ever played.
Basic Gameplay. Players take turns rolling the special 10-sided die to determine who they'll face-off against in a 1-on-1 challenge. There are 26 different types of challenges, each of which is highly interactive and provides large doses of entertainment value for all. After the challenge type is read aloud all players who aren't competing get to bet on who they think will win the challenge. Monkey business, horse play and all around insanity ensues. This game creates hysterical moments that you'll talk about for days.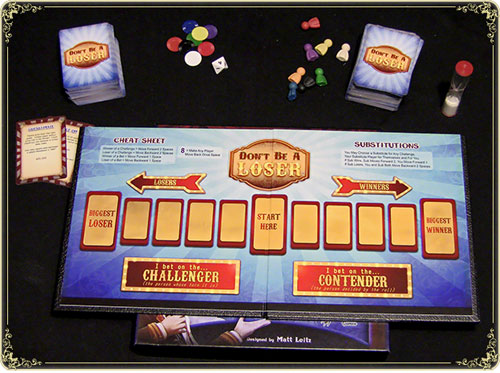 The Goal of the Game. The goal of the game is simple: to become the Big Winner, but more importantly, to NOT be the Big Loser. Players all start in the middle of the board. As you win challenges and bets you move right toward the Big Winner square. As you lose you move backward toward the Big Loser square. The game ends when a player proves themselves to be the most pathetic by reaching the Big Loser square. Whoever is in the lead instantly becomes the Big Winner. Easy peasy.
The Exciting Twist. Before the game begins players decide on a penalty that the Big Loser has to pay at the end of the game. Depending on how sick and twisted your friends are this can get interesting. The Big Loser might have to do something simple like wash the dishes or maybe sing a silly song about how grand of a loser they are. If this seems a little tame (lame) than feel free to go nuts with this, it's your call. Not to worry if you don't happen to be a particularly creative bunch, we provide 100+ penalty ideas of varying ridiculousness.
Add a Review for "Don't Be A Loser"