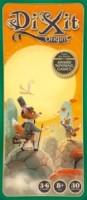 Dixit Origins
Travel to lands of imagination with beautiful, compelling art in this wonderful new expansion to the award-winning Dixit. Eighty-four new cards full of wonderful images will delight and entertain.
One player is the storyteller, and he will say a clue. Everyone offers up an image card, and the players who can guess the clue score points. You can mix and match the cards in Dixit Origins with any of the other Dixit sets to make keep your favorite guessing game full of adventure and imagination.
NOTE: As this game is an expansion pack – you must have a base game in order to play.
Features

Beautiful, compelling art
Breath new life into an already wonderful game
84 new cards for an award-winning masterpiece
Add a Review for "Dixit Origins"