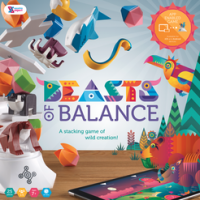 Beasts of Balance
Build balancing towers and fabulous worlds in beasts of balance, an award-winning new game of skill, strategy and creation. Play solo or with friends to stack magical artefacts and watch as they evolve your world on a connected digital device. But take care... the world ends when the tower falls!
Beasts of Balance is brought to you by a team of game designers, artists and engineers who live in a vault under London's Waterloo Bridge. Armed with the latest technology, we're pioneering radical and fun new concepts for play that connect the best of tabletop and digital games.
Free iOS and Android App required to play.
Add a Review for "Beasts of Balance"