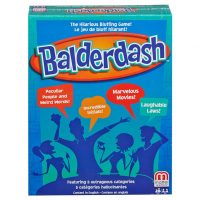 Balderdash
Categories contain real but unbelievable content about People, Words, Initials, and Movies. Players make up phony answers, read them off along with the correct answer, and others vote on which answer is real. Score points for guessing correctly and for bluffing the other players. Grab the bull by the horns and play Balderdash, the game that's hilarious beyond belief.
Bluff Your Friends!
Balderdash™ is the game that asks your friends to "call your bluff", combining unbelievable but true content with answers that are hilarious and totally made-up!
Mix Of Categories
Each game card lists a question from one of 4 possible categories of content: people, words, initials, and movies. Once a question is read, each player must write down what they think the definition or answer is.
Hilarious Beyond Belief!
Don't know the answer? That's where the fun really begins, because you get to make up an answer that's as silly or serious as you want!
True Or Phony?
In order to win the game, players must decipher between answers that are phony and answers that are true. If you suspect an opponent to be faking it, you can call their "bluff" and score points by guessing correctly.
Features
Time to grab the "bull" by the horns and hope other players don't call your bluff!
Balderdash™ game features compelling, unbelievably true content and categories include people, words, initials, and movies.
Make up phony definitions to read alongside the real answers.
How well can you fake it? Score points when you do and when you can call other players' bluffs.
Hilarious party favorite game includes clue cards, game board, movers, die, and instructions.
Add a Review for "Balderdash"