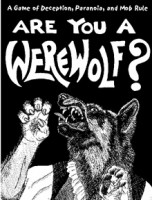 Are You A Werewolf?
A Game of Deception, Paranoia, and Mob Rule
A vengeful group of villagers must figure out who among them is a werewolf (before it's too late...) Are You A Werewolf? is a deception party game for 7-15 players. Players are assigned roles secretly. Most players are Villagers, two or three will be Werewolves.
The Villagers try to figure out who the werewolves are during the day, and the Werewolves eat the Villagers at night.
Game Play
This is a very unusual game. Each player is randomly assigned a secret identity, and then the group sits around and talks to each other trying to figure out which players are the werewolves. The villagers are trying to figure out who's a werewolf; the werewolves are pretending to be villagers, and trying to throw suspicion on real villagers. A moderator helps to keep the action going...
It should be noted that this game was not invented by Andrew Looney. It's based on an enduring public domain classic (more commonly known as Mafia) which is played with a standard deck of cards. It's a game the Looneys played frequently, having been taught the game by their friend Andrew Plotkin who added the Werewolf theme. We grew weary of using plain old marked up playing cards, and back in 2001 (as our Holiday Gift to our fans) created a set of more appropriately themed cards, featuring artwork by Alison.
NOTE: Looney Labs also produced a Deluxe Edition of Are You A Werewolf? as a Kickstarter project, which was fulfilled in March 2013. That version is not generally commercially available.
Add a Review for "Are You A Werewolf?"