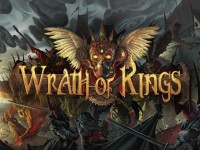 Wrath of Kings
The Ancient Kingdom lies in ruins. For millennia, the continent of Arikania languished, isolated and enslaved by demonic elemental overlords, until the Ancient King sacrificed His name and destiny to bind them, free humanity, and unite the land. Though He ruled for over a thousand years, even He could not live forever, and His own scions have wrecked His legacy…
The five factions of Wrath of Kings, like their founders, have very different views of what Arikania should be, and they have mastered different forms of technology and magic in their pursuit of victory. Each nation, lead by the scion's noble house at its heart, will change Arikania forever – if they do not destroy it in the process.Take control of one of the Five Kingdoms of Arikania, ranging from the steam-powered wonders of House Teknes, the honorable stalwarts of House Shael Han, the mysterious followers of the Deep Gods, House Hadross, the monstrous denizens of the night in House Goritsi, or the cold and calculating killers of House Nasier.
Wrath of Kings is a game unlike any before it, with games scaling from small skirmishes between players all the way up to massive regiments and battalions for a true war! One thing holds true, regardless of the level of engagement: you'll have to direct and coordinate your troops through powerful leaders in order to win- have your chain of command severed and your army will begin to crumble… Of course, the same is true of your opponent, so whether its victory through sheer slaughter and brute force, or the more subtle victory of assassinating your opponent's leaders, Wrath of Kings has a style for you!
Add a Review for "Wrath of Kings"