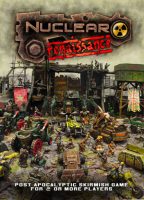 Nuclear Renaissance
In the not too distant future, the once sprawling metropolises of man are now nothing but dust. Wars, over-consumption and the wanton destruction of his own environment has left the earth as a barren rock. Across these trackless wastes, gang fights gang for the possession of scant resources, food and bitter glory. Move fast, stay in cover and watch your back. Outside of your gang is a short life of hardship and starvation followed by a quick, pitiful death.
Nuclear Renaissance is a tabletop skirmish game. The rules are for skirmish campaigns in a post apocalyptic wasteland. Players collect a gang of hardened fighters and souped up vehicles from the customisable range of parts and characters. Its a multiplayer game, so 3 or 4 player games work well in the system as well as the standard 2 player setup. Each player then pits their wits against friend and foe alike in a bid to win the coveted prize, to be the last gang standing.
Add a Review for "Nuclear Renaissance"