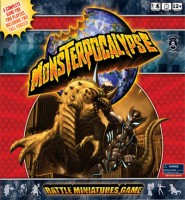 Monsterpocalypse: 2 Player Battle Box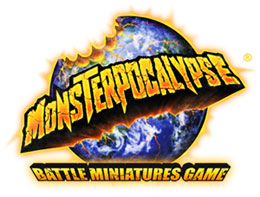 Monsterpocalypse is a fast-moving, action-packed strategy game played with high-quality pre-painted miniatures portraying the most fearsome giant monsters on Earth! Each battle takes place in a city that you and your opponent construct by placing buildings on a city map. Players choose their forces from their respective collections of figures and then battle one another with giant monsters and supporting units such as tanks, flying vehicles, and all manner of terrifying creatures. Charge your monster into the city to fight for supremacy, and be the last monster standing!

When the battle begins, you command your monster and lead your units into the city to hunt down and destroy your opponent's monster. To accomplish your mission, your monster and units each have weapons and abilities that are activated by special dice.
Monsters can increase their power throughout the game by smashing buildings and destroying enemy units. When two monsters fight each other, the results are devastating—they can throw each other across the city, slam into buildings, and suplex each other into radioactive rubble! The last monster standing wins the game!

The Monsterpocalypse battle miniatures game puts you in control of power on a monstrous scale.
Add a Review for "Monsterpocalypse: 2 Player Battle Box"