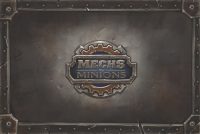 Mechs vs Minions
Rumble has invited four intrepid Yordles (Heimerdinger, Tristana, Corki, and Ziggs) to his school to learn how to program and pilot their newly crafted mechs against an army of marauding minions threatening the safety of Runeterra.
Mechs vs Minions is a cooperative tabletop campaign set in the League of Legends universe for you and up to three of your most genius-ish yordle friends. You'll program and pilot your new mechs through 10 minion-mashing missions, each of which will take around 60-90 minutes. What do you mean this doesn't look safe?
Add a Review for "Mechs vs Minions"