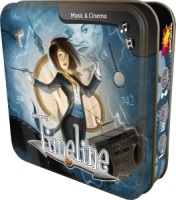 Timeline: Music & Cinema
We love our entertainment – but do we know when it all came about? Learn about the roots of modern rock, the early days of motion pictures, and the masterpieces of the classical composers in this fun and educational game about the history of entertainment.
Players will compete to get rid of their cards by inserting them into the timeline. Was Flight of the Valkyries before the William Tell Overture? Sure, the Eagles came before Daft Punk, but was Enter the Dragon between the two? Guess correctly and learn as you play, and be the first to place of all your cards to win the game.
Features

Easy rules that will have you playing in minutes.
Beautiful art on every card.
Educational and entertaining.
Add a Review for "Timeline: Music & Cinema"