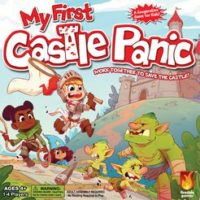 My First Castle Panic
Fireside Games is excited to announce My First Castle Panic, a new preschool version of Castle Panic, the classic tower defense board game. Like its predecessor, My First Castle Panic is a cooperative game in which players work together to defend their castle. However, the game play has been simplified in the preschool version to allow children ages 4 and up to play independently. While Castle Panic has won many awards and is a great family game, younger players can have difficulty participating because of the reading required. My First Castle Panic removes the reading requirement and fosters the development of educational skills, such as identifying colors and shapes, problem solving, and turn taking.
The edge-of-your-seat excitement has been maintained even with the preschool-friendly rules. Monsters follow a single path toward a single, large, eye-catching castle, protected by one wall. Each step toward the castle is identified by a color and a shape. Players hold cards in their hands with cute defenders who also have a color and shape. When a card is played that matches the location of the monster, that monster is captured and thrown in the dungeon. Tension builds as more monsters are placed and move along the path toward the castle. If the castle is destroyed, the players lose. But if it stands when all the monsters are in the dungeon, the players win. My First Castle Panic features gorgeous art by Cam Kendell and is a great way to introduce children to the fun and challenge of board games. Look for it in stores worldwide March 6, 2019.
Add a Review for "My First Castle Panic"