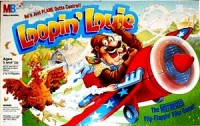 Loopin' Louie
Beware! The daring Louie is on the way in his glaring red flier. But instead of whizzing through the air in a straight line he flies in a circle and frightens all the chickens when he zooms too close to the farms. So watch out and quickly save your chickens by catapulting Louie up and perhaps turning him in a somersault.
In Loopin' Louie, a battery-powered motor placed in the center of the table rotates a boom with a little plastic plane. Four radial arms lead out to the players' barns and the chickens they're trying to protect. Each barn has a little lever, which is used to knock the rotating plane away from your chickens and hopefully into someone else's. When only one player has chickens remaining, he or she wins the game. Very silly and very addictive.
Add a Review for "Loopin' Louie"