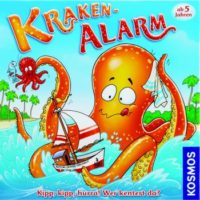 Kraken Alarm
The reef is full of seahorses, snails and colourful fish. Each player tries to collect as many sea creatures as possible with the research ship. But be careful: there's danger if you catch the Kraken Kuno in your net. Kraken-Dad Kurt tries to recapture little Kuno with his long tentacles. The players move the ship and Kraken Kuno on the game board to discover chips showing sea creatures. If the ship finds Kuno, call out "Kraken Alert!" You then set the pendulum swinging in the middle of the board. If the pendulum causes the plastic ship to capsize, the captain has to give up supplies. It's especially exciting when the pendulum causes the ship to right itself again. A thrilling game requiring a good memory and a little bit of luck.
Also published as S.O.S. Octopus
Add a Review for "Kraken Alarm"