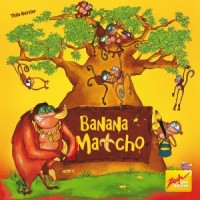 Banana Matcho
The monkeys are climbing! Each of them wants to pick the largest fruits. But Banana Matcho, the head monkey, calls all of them back – using the loudest squeaky banana in the jungle!
If you want to reach the fruit basket in the treetop, you need to hold up well in wild dice-rolling duels. You try to roll as many valuable fruit combinations as possible before an opponent manages to get a Matcho head on three dice. The one who is fastest brings forth a triumphant squeak from the banana in the middle of the table.
You can get to the sweet fruits sooner if you take many risks – often you get lucrative dice combinations only when the third Matcho head is getting close. Banana Matcho is a lively, squeaky game where the dice are cast faster than the hands can roll them.
Add a Review for "Banana Matcho"