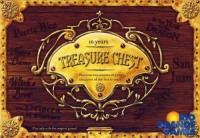 Treasure Chest
This Treasure chest is a collection of expansions for 7 games produced by Rio Grande Games and Alea over the past 10 years:
Puerto Rico: The New Buildings & The Nobles
San Juan: The New Buildings & The Events
Louis XIV: The Favorite
Notre Dame: The New Persons
In the Year of the Dragon: The Great Wall of China & The Super Events
Witch's Brew: The 6th Player & The Amulets & The Magical Abilities
The Princes of Florence: Muse & Princess & @ player rules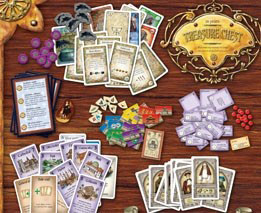 So you get 13 expansions for these 7 great games in one box!
We have found that two of the Puerto Rico expansion tiles are missing the title on one of their sides in some games. These are Forest House and Library. As they are printed on both sides, this does not affect game play and we are not offering replacements.
Add a Review for "Treasure Chest"