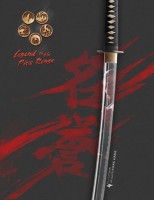 Legend of the Five Rings RPG: 4ed Core Book
Blood. Honor. Steel
The Fourth Edition of L5R is the ultimate edition of the award-winning role-playing game. Inside this tome, you will find:
A game unlike any you've played elsewhere. Honor and service are valued more than magic swords taken from wandering ogres. Prepare for the glorious life of the samurai!
Play from the Character Sheet. Legend of the Five Rings rules have never been more easy to learn and to play. No more need to flip through pages of rules while fighting your enemies!
A toolbox approach to role-playing in Rokugan. Fourth Edition encourages gamemasters of Legend of the Five Rings to customize their game, adding or removing from their campaigns as they see fit, customizing the game to fit their story lines and players.
A broad history of the Emerald Empire and thebeliefs of all the Great Clans, with play options not only the major clans but also for outlying groups such as Imperials, Minor Clans, and the infamous Spider Clan.
Add a Review for "Legend of the Five Rings RPG: 4ed Core Book"