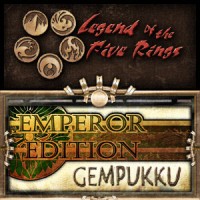 Legend of the Five Rings – Emperor Edition: Gempukku
With the stress of the Dark Naga's guerilla war against the Empire and the terrible things unleashed by the rampant exploration of the Colonies, relations between the two lands have become strained almost to the breaking point. In an effort to determine the extent of the degradation in honor by the Colonials, the Emerald Champion deploys one of her Imperial Legions to investigate, but pride on the part of both sides quickly leads to conflict.
Emperor Edition: Gempukku is the reprint of the most recent base set for the fan-favorite Legend of the Five Rings Collectible Card Game from AEG: Emperor Edition. Gempukku is the rite of passage into adulthood in Rokugan and as such, starter and booster decks are specifically made for new players, while still holding value for existing ones! Join Legend of the Five Rings, as the Empress struggles to keep a firm hold over the Empire's new territories.
224 cards starter decks with Common and Uncommon cards from the entire Emperor Edition Arc as well as 2 exclusive cards for each of the 9 Clans of the Emerald Empire!
6 cards booster packs, exclusively made of rares from all the expansions from the Emperor Arc: Before the Dawn, Second City, Emperor Edition, Embers of War and Seeds of Decay!
Great art from acclaimed artists in the industry, bringing both Rokugan and the Colonies to life
The rift between the mainland and the Colonies continues to increase as Imperial forces are dispatched to the Second City!
Add a Review for "Legend of the Five Rings – Emperor Edition: Gempukku"