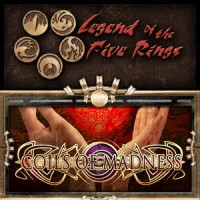 Legend of the Five Rings – Coils of Madness
With the threat to the Colonies finally revealed, the honorable samurai of that region must struggle against a growing wave of insanity, even as the magistrates of Rokugan desperately search for an answer that will end the threat once and for all. Will the Empire's honor prove strong enough when the world is caught in ever-tightening coils of madness?
Coils of Madness is the latest expansion for the fan favorite Legend of the Five Rings Collectible Card Game from AEG. It is the first expansion legal for the current arc – Emperor Edition but also for the entire arc to come – Ivory Edition. The mad dragon P'an Ku has finally revealed himself as the driving force behind the rift created between the Empire and the Colonies. As madness spreads like a wildfire across the Empire, will the shield of honor be enough for the samurai to triumph?
Special packaging which features:
A Limited Edition tin box containing a playset (3 of non-unique, 1 of unique) of all the cards in the expansion, a fully illustrated story book and a serialized certificate of authenticity.
7-card Booster Packs (for better access to cards from this set throughout the entire arc) that also include foil and full bleed versions and an exclusive Personality for each of the 9 Clans.
Other features:
150 new cards legal for both the Emperor Edition and the Ivory Edition Arc!
Fantastic art from acclaimed artists in the industry that brings the characters and the shifting environment they evolve in to life.
P'an Ku has struck. Who will wilt under his maddening presence and who will fight back?
This set also features the return to the game of iconic personalities such as (but not limited to) Hida O-Ushi, Doji Hoturi, Togashi Mitsu, Tsuruchi and Bayushi Kachiko! Also in this set, cultists of Fudo and cultists of P'an Ku take up arms and vie for theological supremacy over the Colonies offering players around the world two new legal Strongholds to create decks around for the remainder of the arc, as well as alternate Rings!
Add a Review for "Legend of the Five Rings – Coils of Madness"