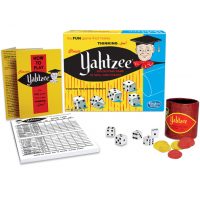 Yahtzee Classic
Each player keeps his own score on a YAHTZEE score card to be marked with the player's name. To determine who goes first, each player places all five dice in the dice cup and rolls out all the dice; the player with the highest total starts the game. The play then continues clockwise.
Each player in turn places all five dice in the cup, shakes the cup and rolls out the dice. Each turn consists of a maximum of three rolls. The first roll must be made with all five dice. If the player chooses to roll a second and, if desired, a third time, he may pick up any or all the dice and roll again. It is the skillful use of these two optional rolls of the dice that can turn an unlucky first or second roll into a high-scoring turn. A score must be entered after the last roll in the appropriate box or a zero entered in a box of the player's choice.
Add a Review for "Yahtzee Classic"