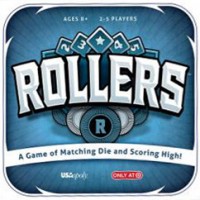 Rollers
ROLLERS™ - A Game of Matching Die and Scoring High
Rollers is the fun new dice game of fast rolling, quick combo making, and collecting chips! Race to be the first player to fill up your game board by "opening" and "closing" your game board sets. The better your roll, the more chips other players have to pay up! Wild Stars will help you make your sets, but beware the dreaded Zap that cancels your roll. With Rollers, the first player to score 5 points wins!
Unplug for game night
Luck & strategy make each roll of the dice exciting
Piles of chips, wild stars and the dreaded zap make it fun for all
Entertaining for Kids, Teens & Adults – Fun for all generations
Available Only at Target
Add a Review for "Rollers"