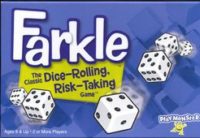 Farkel
It's a classic dice game that's perfect for family fun or any game night. Roll the dice and try to collect combinations that will earn you some points. But, if you decide to take a risk and continue rolling, you could lose your points in a Farkle!
Even if you do Farkle, it's fun just saying Farkle, right?
Iconic Family Game
One of the world's favorite dice games, Farkel is a fun, fast-paced, high-score game that takes minutes to learn and enjoy.
Educational Game
A perfect educational game that not only utilizes math skills, but also exercises visual memory. Get this for your favorite young student today!
Fun for Everyone
With its easy to follow instructions and minimal pieces, Farkel is perfect for players ages 8 and up. Game night just got easier and more fun for everyone! NOTE: Farkle is based on a folk game and was packaged into this edition in 1996. It is spelled Farkle or Farkel
Add a Review for "Farkel"