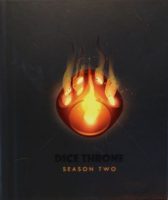 Dice Throne: Season Two
Season Pass - Includes ALL 8 Season Two heroes!
Dice Throne Season 2: Gunslinger vs Samurai
Dice Throne Season 2: Artificer vs Cursed Pirate
Dice Throne Season 2: Tactician vs Huntress
Dice Throne Season 2: Seraph vs Vampire Lord
Dice Throne is an accessible and strategic dice dueling game where players choose their Hero and square off against their opponents in an intense head-to-head or team battle.
WELCOME TO DICE THRONE
For a thousand years, the Mad King has sat atop his high throne seeking a worthy challenger. Each year, the undefeated King hosts a tournament of champions offering heroes from all corners of the globe the opportunity to finally dethrone him. Will you be the one to end his reign? HOW TO PLAY
Choose 1 of 6 unique heroes to command. Activate your Hero's abilities using dice combinations. Upgrade abilities as the game progresses. Play cards to manipulate dice & surprise your foe. Defeat your opponents and take the throne!
Add a Review for "Dice Throne: Season Two"