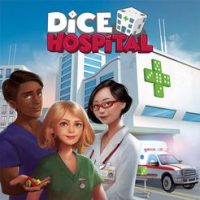 Dice Hospital
A worker placement and dice manipulation game! Featuring beautiful art, novel mechanics and a unique theme where the dice are patients!
Dice hospital is a game about managing hospitals and patients. Each player controls a different hospital, taking ill patients from a central pool of ambulance arrivals. The patients — represented by dice — will need to be healed using various hospital effects, through a series of higher values, until they can be discharged.
Add a Review for "Dice Hospital"