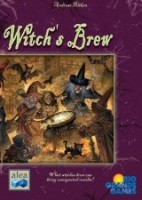 Witch's Brew
Whether it is the druid, the witch, or the wizard. All these masters of magic help the players brew their potions, helping them to become rich and successful.
Players take turns at the different roles, but also compete for them. The player who can best choose when to take risks and compete and when to sit back and allow others the center stage will win the game!
So who will make the best witch's brew?
Add a Review for "Witch's Brew"