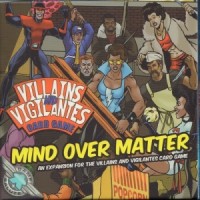 Villains and Vigilantes Card Game: Mind Over Matter
Leap into action with the first full expansion for the Villains and Vigilantes Card Game. The adventure continues with new heroes, villains, missions and super-powers to explore. Maxima is the ultimate warrior-woman from the future. She has extraordinary strength, steel-hard skin, and lightning reflexes. No one can match the speed and strength of this woman without equal.
Marionette is a diminutive villain with the power to take over the minds of others and use them as she wishes. Her partner in crime is the psychic vampire known as Temper. He can control the emotions of crowds, inflame passions, turn allies against one another, and grow ever stronger from the inevitable chaos.
Can Maxima withstand the mental manipulations of this deadly duo? What will she do when her loyal friends are endangered or turned against her? It's deadly brains against extraordinary brawn in the ultimate test of Mind Over Matter.
This expansion contains two new fully-playable pre-constructed decks featuring the mighty Maxima and the sinister Temper and Marionette. It features all-new power cards that showcase Maxima's extraordinary physical prowess and the villains' powers of mental manipulation. In addition, these decks introduce new minor characters, heroic allies, cherished friends, and potential victims of these nefarious villains.
This expansion is fully compatible with the Villains and Vigilantes Card Game base set. You can mix and match cards to create your own combinations of heroes and villains, powers, plot twists and missions.
This is not a stand-alone expansion. The Villains and Vigilantes Card Game base set is also required to enjoy the game.
Add a Review for "Villains and Vigilantes Card Game: Mind Over Matter"