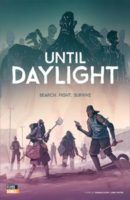 Until Daylight
Until Daylight is a cooperative survival 3 to 6 players card game, taking place in a chaotic world filled with infected.
Each turn, players search the rubble to find objects, weapons and ammunition to survive the hordes of raiders and infected who will attack your group wave after wave. Each of the 10 rounds will bring its load of danger and surprises. Your group will have to search the rubble as fast and effectively as possible before the horde arrives, which can happen at any given time. Once the combat phase has begun, take some time to establish your strategy to scatter and eliminate your enemies. Your fate is bound, if one of you dies, it's game over. Search without restraint, Fight relentlessly and Survive this ruthless world!
Add a Review for "Until Daylight"