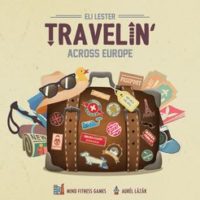 Travelin'
Travelin' is about the trials, tribulations, and triumphs of a trip to Europe. Based on experiences from the unforgettable Midland Hostel in Bucharest, Romania, we designed this game to be accessible for gamers and backpackers alike. Travelin' features point-to-point movement, hand management, and take that mechanics to not only advance your own travels, but also to stop your opponents. First one to 5 countries ends the game and the player with the most points wins.
Do you dream of romantic train travel across Europe? Well, we've got it (minus the romance), and even some planes and buses to boot. To be honest, we were feeling a bit generous, so we went ahead and added some of the other famous parts of traipsing through Europe as well - you know, the sketchy taxi drivers, border controls, bad kebabs, and arrogant backpackers. Really, it's because we want your experience to be complete and believe us, some of those negative parts are every bit of memorable as the Eiffel Tower. Use your cunning and skill, avoid common travel pitfalls, and visit exciting countries to make the most of your time TRAVELIN'.
Add a Review for "Travelin'"