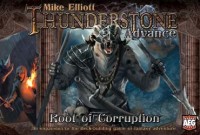 Thunderstone Advance: Root of Corruption
Root of Corruption is the second expansion to the very successful deck building game Thunderstone Advance: Towers of Ruin.
Kill at the Root
The corruption runs back to the source–Dun Ordha, capital of Tala. After a long struggle with Doom, good King Caelan and his royal guard have succumbed. Curses manifest as monsters, and citizens are their minions. Worse, an army of monsters camps outside the city. War comes to the very center of peace.
Now you fight on two fronts–the sieging army outside the walls, and the bloom of corruption within. Can you defeat the final Thunderstone bearer, force Doom out, and save the world?
Add a Review for "Thunderstone Advance: Root of Corruption"