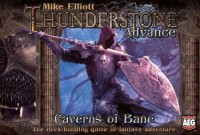 Thunderstone Advance: Caverns of Bane
Caverns of Bane is the first expansion to the very successful deck building game Thunderstone Advance: Towers of Ruin.
Thunderstone goes underground into the Caverns of Bane. The first three Thunderstone Bearers are defeated. In the aftermath, the adventurers find clues leading to the abandoned Dwarven kingdom of Caligin, beneath the fortress at Cheah Dell.
The dwarves of Tala do not revere those who learn the ways of the berserker. Clans typically disown individuals who mine the veins of rage, because they kill friends and foe alike. But outsiders, those new to Tala, don't hold the same prejudices. You may find use for these Disowned in the black tunnels of Bandia's skin.
Add a Review for "Thunderstone Advance: Caverns of Bane"