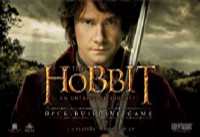 The Hobbit: An Unexpected Journey Deck-Building Game
In The Hobbit: An Unexpected Journey Deck-building Game, each player takes on the role of a member of The Company as they set out on the long and treacherous path to Lonely Mountain. Play as Bilbo Baggins, Gandalf the Grey, Thorin Oakenshield, or others. Your Hero card will guide your strategy throughout the game, or you can break away with a plan of your own.
Each player starts with his own basic 10-card deck and draws a hand of 5 cards each turn. Power is the currency you will use to buy new, stronger cards to add to your deck. The goal of a deck-building game is to craft your personal deck into a well-oiled machine. There are five different types of cards that can be acquired: Enemies, Allies, Artifacts, Maneuvers, and Locations. A large, central stack of cards supplies a five-card "Path" from which players make their purchases. Each player will always have five face-up cards to choose from each turn, so every turn there are new options and surprises.
When you have amassed enough Power, you can take on an Archenemy! Each Archenemy has Loot cards you can acquire. Defeat a Troll and you might find Sting, Orcrist, or Glamdring! Take on The Goblin King and you might find the maneuvers you need to escape from the Misty Mountains. Azog is the final Archenemy, and he has unfinished business…
In the end, the player who has accumulated the most Victory Points from the cards in his or her deck wins the game.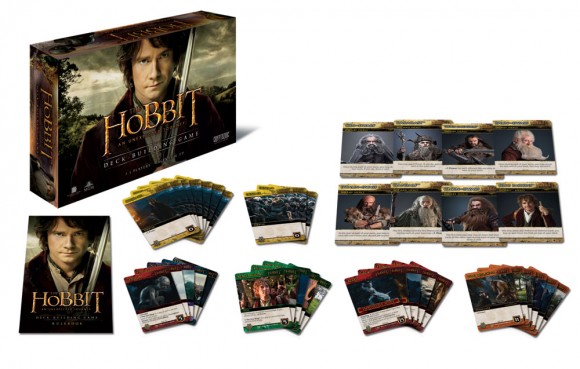 Play as Bilbo, Gandalf, Thorin, or other dwarves of The Company.
Each Hero has a unique special ability that will open up different strategies to the player. Follow that strategy or break away with a plan of your own.
Card combos, strategy, and fun abound in this game where every card features an exciting character, artifact, creature, or scene from the hit movie.
This is a standalone game, but also compatible with other Cerberus: Middle-earth releases such as The Lord of the Rings: The Fellowship of the Ring, The Two Towers, and The Return of the King Deck-building Games.
Easy to learn, entertaining and engaging gameplay.
Add a Review for "The Hobbit: An Unexpected Journey Deck-Building Game"