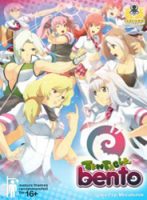 Tentacle Bento
It's your first day of school. A Tokyo spring warms the sunny grounds at Takoashi University. Your clever disguise won't hold out for long, you flex your tentacles in anticipation for the mayhem to come! The invasion is coming, and you need to capture as many students as you possibly can.
Tentacle Bento is a fun and humorous card game set on the campus of the elite, Takoashi University. Take on the roll of a squiggly alien disguised as a new student, doing what aliens do best, collecting pretty school girls! The alien who captures the most students before the end of the school year wins.
Fast-playing and innuendo rich, Tentacle Bento is simple to learn and is an ideal party game for a night full of zany anime tropes. 108 lavishly and authentically illustrated cards bring the locations and personalities of Takoashi University to life in this off-the-wall look at the stranger side of anime.
Add a Review for "Tentacle Bento"